Your Ideal Year is the online course to help you figure out what you really want out of life and give you the tools and strategies to make it happen, in just two weeks!
Feel like you aren't living the life you want for yourself?
Did the last 12 months not go as you were hoping it would?
Do you have a hard time reaching your goals?
Are you confused about what to focus on?
Do you envision a completely different life?

Feel like you are just gong through the motions with no intention?
If you are asking yourself any of these questions,
I've got the answer for you.
As soon as you purchase, you will have IMMEDIATE ACCESS to the ENTIRE COURSE!
LET ME HELP YOU MAKE the next 12 months YOUR IDEAL YEAR!
What would life look like if you did reach your goals last year?
How relieved would you be if you felt organized and had a clear path to what to accomplish in the next 12 months?
I've been there. I've been confused, frustrated, stressed. A hot mess.
After years of going through this process myself and perfecting it, I am so much happier, I feel better, I have a clear mind, I can enjoy life, and I have a clear path to accomplishing my goals.
Right now you might feel like:
You aren't living the life you envisioned.

You can't accomplish your goals.

You feel overwhelmed by what you want and aren't sure how to make it happen.

You aren't getting what you want out of life.

You aren't sure where to start or what to focus on.

Things are complicated and confusing and you feel paralyzed.

You know there's more out there for you…
After this course you will:
Know what you want to accomplish in the next 12 months.

Choose your life and have a clear path to make it happen.

Have clarification on what your true passions and values are.

Hone in on 6 major areas of your life and have clarity about what you want out of them and the steps to get there.

Learn how to set better goals that you can actually achieve.

Start and keep new habits.

Figure out how to accomplish big projects.

Find the organization method that works for you.

Have an ongoing structure to continue setting and reaching your goals to live your ideal life not just in the next year, but forever.
THEN
I was a hot mess once. I had just moved across the country, left my cushy corporate job, and decided I was "going to be an entrepreneur." Except I had no plan and no idea what I actually wanted to do.
I don't recommend that to anyone. I had to figure it out all my own.
No mentor, no business degree, no business partner, no one helping me.
I felt overwhelmed with everything I wanted to do and wasn't sure where to focus my time. I didn't even really know what I wanted.
So I tried everything I could think of and wasted a lot of time in the process.
I was so stressed out I got rashes and hives all over my body, even on my face. I wouldn't leave my apartment (except to go to the grocery store) for weeks. Seriously!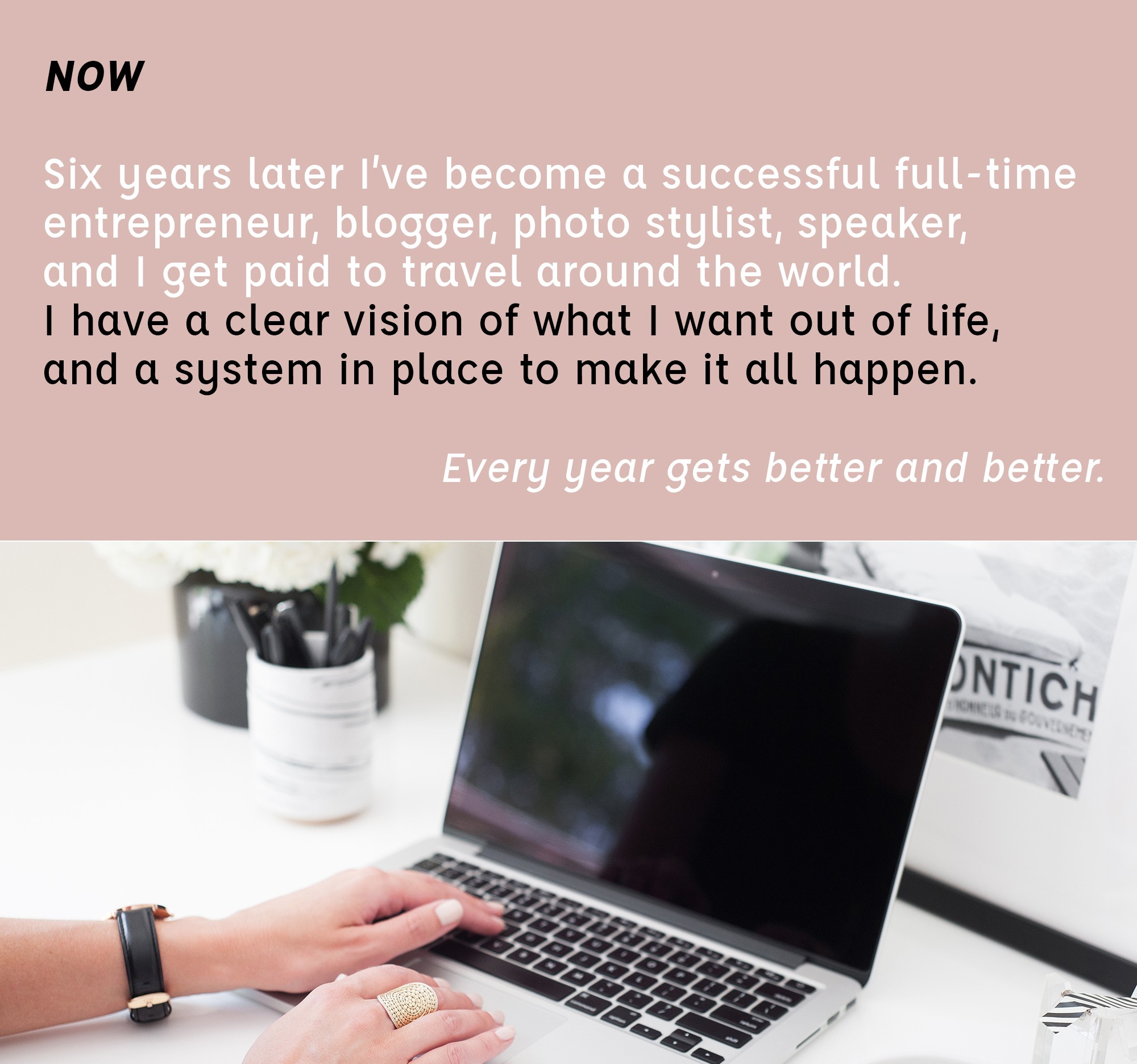 Let me give you a breakdown of what is in this course:
There are 6 parts in the course, plus the introduction and resources sections.

In each part there are anywhere from 2 to 7 lessons.

Each lesson is a mixture of a workbooks, videos, PDFs, and more.
Course Curriculum
Introduction
Available in days
days after you enroll
Part One: Your Past
Available in days
days after you enroll
Part Two: The Deeper You
Available in days
days after you enroll
WHAT THIS COURSE IS NOT
This course isn't focused on anything spiritual. If you are spiritual you can absolutely insert that into the teachings where you see fit. It doesn't matter what your spirituality is or if you belong to any religion or not, this is for everyone.

This course is not woowoo. I'm not going to tell you that things will magically happen. This course is practical and gives you the steps and paths to getting things done.

This course is not fluff. I am not going to waste your time with nonsense. I don't like my time to be wasted, so I will not waste yours either.

This course is not sugar-coated. We're going to get real. You are going to get real with yourself.
WHAT THIS COURSE IS
It's a swift kick in the pants that you need to make the next 12 months the best you've ever had and have a clear path to what you want out of your life.

It's the end of the life that you don't want to live anymore and the beginning of the one that you do.
Don't just take it from me!
Read what everyone is saying about Your Ideal Year: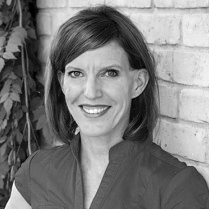 "Meg's course is just what the doctor ordered. I've been dabbling with a side business while miserable in my 9-5. This course is spurring me into action. The tasks we're given throughout the course forced me to take a long hard look at my goals, and then break them down into tiny steps that will help me achieve my long term goals. I can't wait to get started. Also, I see me using this course every single year. Outstanding content! I can't recommend this course enough."
Katie Johnson // Katie's Design Studio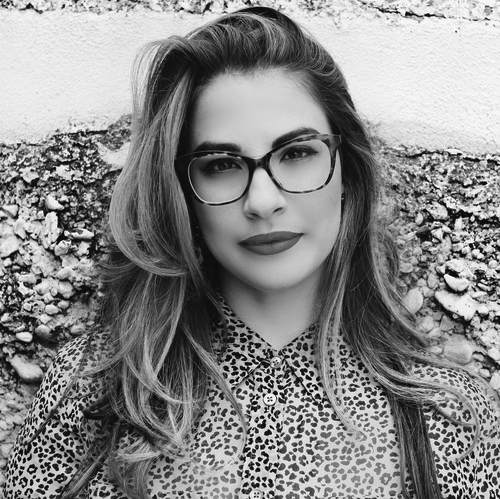 "When you invest in Your Ideal Year you are investing in changing your life right now. This course holds up an honest mirror to the life you live and provides a roadmap to successfully reach your goals with no excuses. I've never had such a hands-on resource to awaken my senses and ignite me for the new year. Thanks to Your Ideal Year I feel more prepared than ever to take on 2017!"
Claire Ashley // Claire Ashley Beauty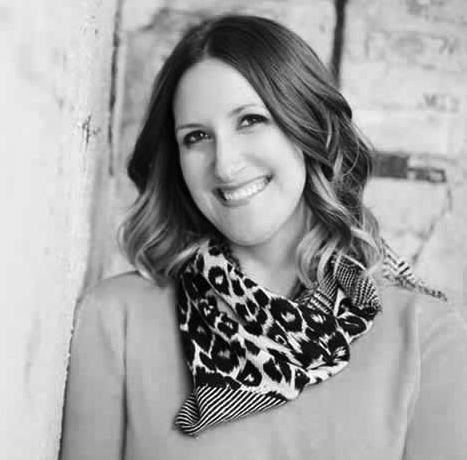 "Meg's course is an amazing resource to help define goals, organize thoughts and provide focus for the year ahead. After completing the introduction alone, I felt inspired and motivated, both in both my personal and professional life. As a small business owner, big dreams and ideas come with the territory but Meg's course helped me prioritize my thoughts in an intentional and realistic way. Accomplishing my goals not only seems doable, but inevitable. Through Meg's method of writing and reflection, and utilizing your own inner drive and passion, Your Ideal Year will help you feel refreshed, excited and ready to take on 2017."
Joanna // Cline Rose Interior Design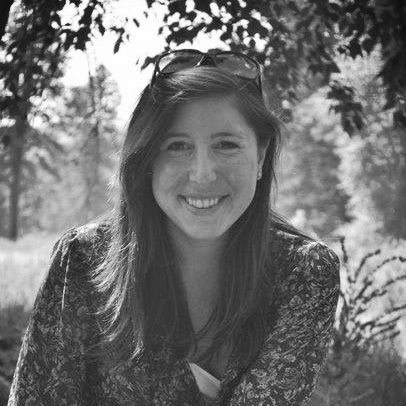 "Your Ideal Year was a great way to set me on track for my 2017 business goals. I feel like I've accomplished a New Year's Resolution — before the year even starts! It step-by-step walked through all aspects of my personal and professional life in a way that really helped me stop and 'take stock' of what was going on around me. I found the workbooks easy to use and the course content enlightening — I even printed some of the quotes for my office walls. I've already suggested the course to several others as a good professional development exercise!"
McLean Robbins // McLean Robbins Media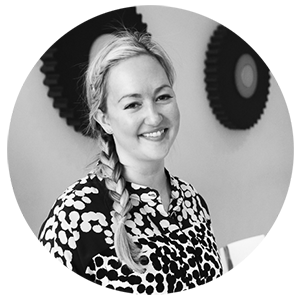 "I have never (ever!) walked away from a course feeling as inspired as I felt after taking Meg's course. Meg gives you tangible tools for tackling life. If you're feeling overwhelmed and in need of a reset button, this is one of the best investments you can make."
Virginia Lucas Hart // virginialucashart.com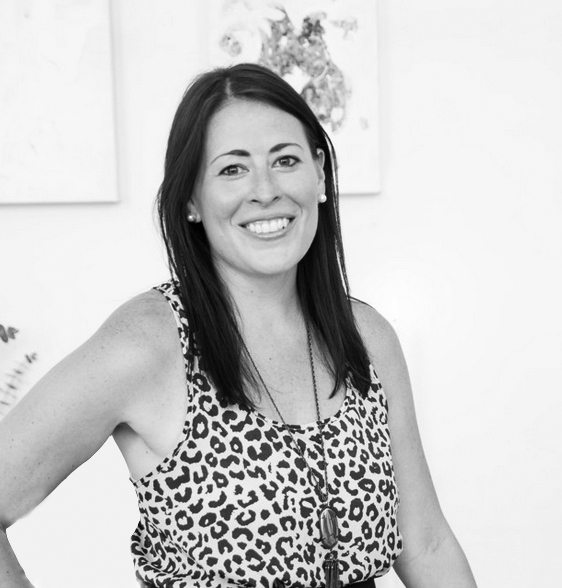 "Meg's course was full of applicable tips on how to be more productive both personally and professionally. She shares quotes, resources, and methods that help you change the way you work and live for the better. The exercises throughout the course challenge you to think about how you spend your time and what your values are so you can ensure you are spending your energy and time in a more useful way that serves you and your priorities. Compared to other workshops and conferences, Meg's course definitely has the most value and immediate impact towards creating lasting changes in my life and I highly recommend it to anyone looking to improve their career and daily routines!"
Sadie // SKC Marketing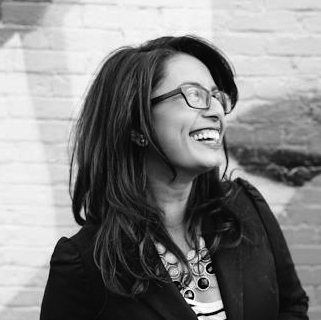 "I was surprised at how I don't really have a good clear sense of my goals. After doing this course I realized that I need to focus on making some measurable, tangible goals in order to make any real progress. Also, I realized that I was doing mostly reactionary client work, and I need to spend a LOT more time on my own work. I thought the topics were exactly what I need to deal with as a business owner."
Bonnie Sen // Bonnie Sen Photography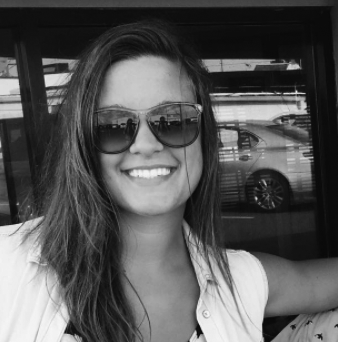 "I've always had a good idea about what I've wanted out of life, but Meg's course, Your Ideal Year, helped me take those abstract ideas and actually put them into action. Meg helps you take both broad look and a close look at your life, so you know exactly where to focus your time and attention to get the most out of your next 365 days and beyond."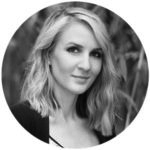 "I loved this course! It gave me a clear and focused space to plan my upcoming year and really get clear on exactly how I want to position my work and my role within my company moving forward. It was a perfect dose of clarity! Meg is a genius in all that she creates."
Tara Zirker // Owner, Sunbeam Communications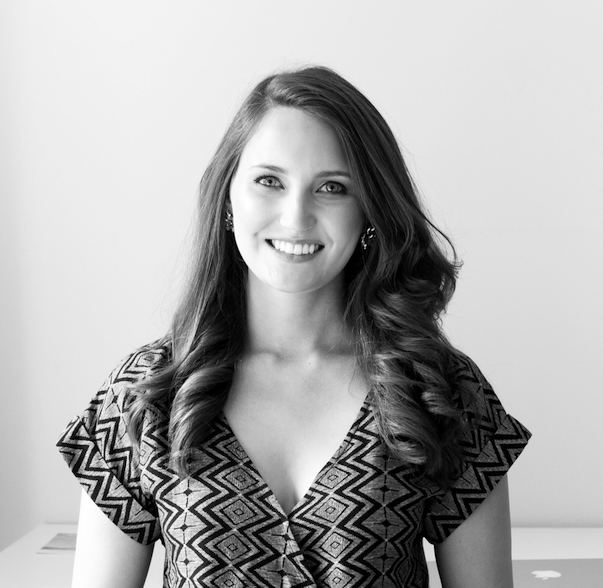 "Your Ideal Year is the course for you if you love finding efficiency hacks and crave the latest studies and books on how to improve your life. Be prepared to put in the work but know you're going to get amazing insight into what could be your best year yet. If you're ready to kick ass in 2017 and do some deep diving into your life Meg's course is your answer."
Carlene // Healthfully Ever After

Don't wait to start planning your BEST YEAR YET!

Enroll TODAY and get INSTANT ACCESS to the entire course.
Your Instructor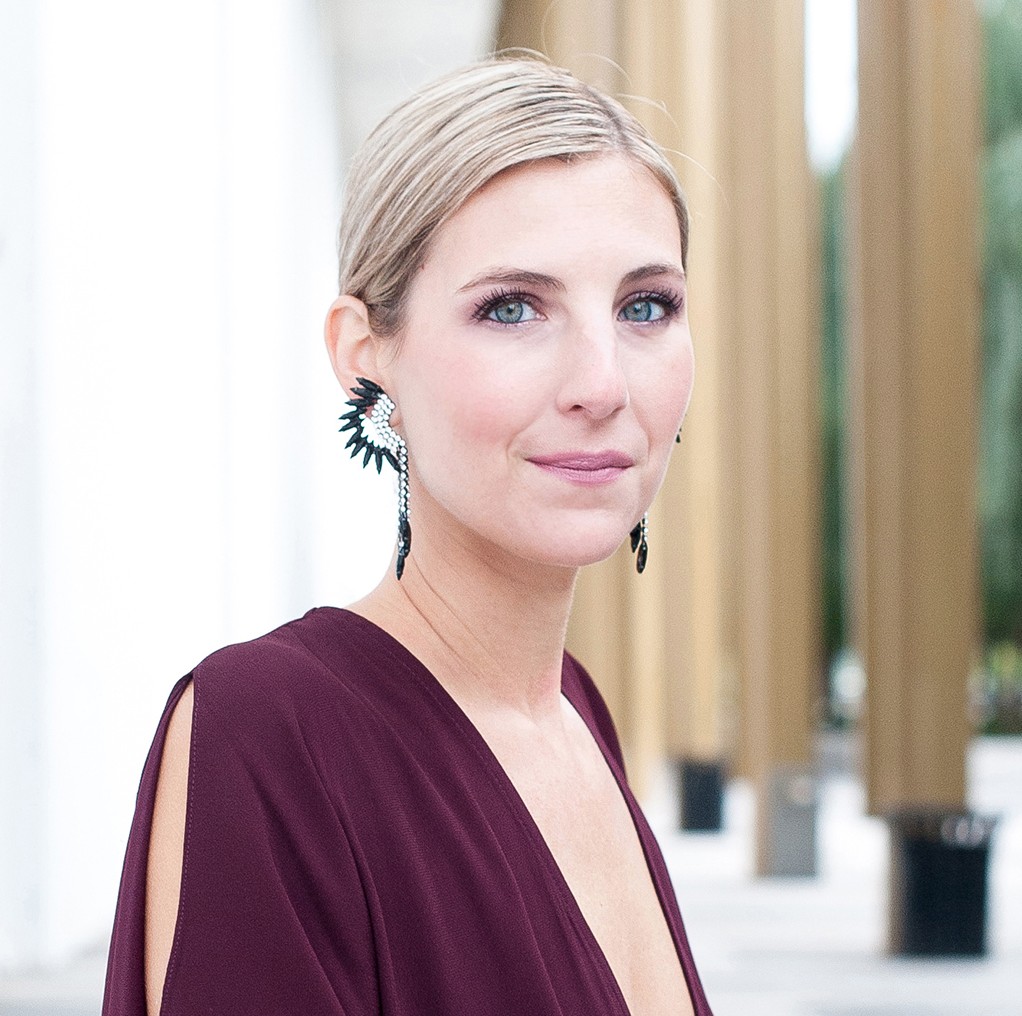 After five years as a designer at Hallmark Cards, I went out on my own as an entrepreneur. In the past six years I've been through the highs and lows of owning your own business. As someone with multiple passions, I felt paralyzed by the endless business options and needed to dive deep into my psyche to figure out what path to take.
This course is a result of my endless research, trial & error, and testing out different productivity methods and creating my own. I personally find this process so valuable each and every year that I wanted to share it with everyone.
WHAT HAPPENS AFTER YOU BUY
You will have IMMEDIATE ACCESS to the entire course!

After you checkout you will be sent to a page where there will be a button that says "Continue to Course" — click on that button and bookmark that page for easy access to the course. Otherwise you can just go to youridealyear.com and log in.
Frequently Asked Questions
When does the course start and finish?
You will have immediate access to the entire course. It is a self-paced online course - you decide when you start and when you finish. You could do the course in a day or two, or stretch it out as long as you want, but it shouldn't take more than a few days to two weeks if you make the time for it in your schedule.
How long do I have access to the course?
You will have access to the course for as long as this version is available online, however since you will be able to download the workbook, you will always have that to guide you. If this version of the course is going to be taken down you will get a 1-week notice via email.
What if I am unhappy with the course?
When you purchase the Your Ideal Year course, you agree to the refund policy, please be sure to read the following: If after you go through the entire course, watch all the videos, read all of the content, and fill out the entire workbook, and you are still unsatisfied with your purchase, you can submit a refund request within the first 21 days of the course being available to be eligible for a refund. Refunds will only be given if you have completed the entire course. We will check to make sure you finished all of the lessons and you will need to submit your refund request along with your completed workbook to
[email protected]
to be eligible for a refund. No refunds will be provided after 21 days after the start of the course. All refunds are discretionary, and eligibility is determined only after all requested items are submitted to our team. If you opted for a payment plan and you do not request a refund by the end of the 21st day, you are required to complete the remaining payments of your payment plan according to our 1 payment per month schedule. If you decide after you purchase that you can no longer afford the payments or do not want to finish the course, that is not grounds to earn a refund. If you do the work, put in your best effort, and feel that you have learned nothing, will issue a 100% refund.